Better Labelers – Better Features
You want better labelers with more uptime. You want a smooth running automatic labeler that is made for quick changes and non-stop performance. At Nita, everyone – from our assemblers to our testers, to our service team – looks for ways to make our automatic labeling machines better.
When innovation is the heart and soul of your company, every person becomes part of making better, more effective labelers. That's the Nita way.
Better Automatic Labeling Machines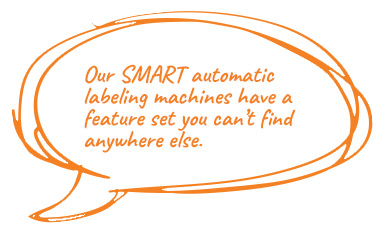 Our SMART automatic labeling machines have a feature set you can't find anywhere else. This includes:
100% non-proprietary electronic components for operational simplicity and easy (and cheaper) sourcing of parts
full servo motors and programmable drives for better labeling machine reliability
fixed-position sensors that work in perfect synch with the conveyor belt and labeling head speeds to improve precision and eliminate downtime
the easy-to-use Virtual Operator Assistant™ that stores memorized recipes for quick changes
high-precision guides and rulers found at all the key adjustment labeling machine stations around the machine to eliminate guess work when switching from one container to another.
Service Innovation Too
Without support and service, labelers are dead weight. (Until they learn to repair themselves Terminator-style. But let's not worry about that yet!)
On top of building ultra high quality, reliable and efficient labelers, Nita prides itself on the most incredible service anywhere. We embrace you, the client as a partner in our shared success. And we give you the service we would want with the highest levels of professional and personal attention.
That's also a Nita difference.